Plastic waste: the products of a handful of multinationals pollute the planet according to a new report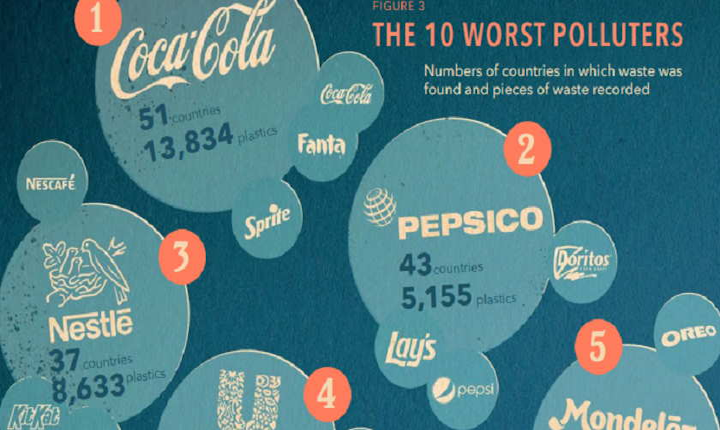 Tens of thousands of plastic waste polluting the planet are generated by a handful of multinationals including Coca-Cola, Nestlé and Pepsico, assured Break Free from Plastics, a global coalition of NGOs, in a report published recently.
This international coalition made up of 1,475 environmental organizations, including Greenpeace, criticizes these multinationals for clearing themselves, for the most part, of the responsibility for cleaning up the pollution caused by their activity.
Coalition volunteers collected nearly half a million pieces of plastic waste in a coordinated "World Clean Up Our Planet Day" across 51 countries a month ago, 43% of them from recognizable brands.
For the second consecutive year, Coca-Cola ranked first among polluters with 11,732 pieces of plastic waste collected in 37 countries on four continents this year.
Among the ten main producers of plastic waste collected are also Nestlé (4,846), Pepsico (3,362), Unilever (3,328), Procter & Gamble (1,160), Philip Morris (2,239) as well as Mars, Colgate-Palmolive, Perfetti Van Mille and Mondelez International, according to the coalition's ranking.
While many Asian countries dump their waste into the oceans, "the real culprits for the bulk of plastic pollution in Asia are the multinationals headquartered in Europe and the United States," the report points out.
Waste management crisis
Nestlé replied that it was working on solutions to make such reports obsolete. As the world's leading food and beverage company, we know we have an important role to play in developing sustainable solutions to the problem of plastic waste, a spokesperson said in a statement. It is completely unacceptable for (plastic) packaging to end up as waste in the environment and we are working hard to make all our containers either recyclable or reusable by 2025.
Coca-Cola and Pepsico, like Nestlé, have said they will make their packaging recyclable, reusable or compostable by 2025. The beverage giants have also pulled out of the US industry organization plastic. Changing the way society makes, uses and disposes of packaging is a complex goal and we are part of it, said a Pepsico spokesperson. We want to help build a system where plastic packaging never becomes waste.
Coca-Cola, for its part, said in a press release that it was seeking to prevent plastic waste from ending up at sea, which it called a crucial global problem. anytime one of our packages ends up in the oceans, or where it shouldn't, is unacceptable to us, they said.
Crediting the brands with generally acknowledging their role in the spread of this pollution, the coalition of NGOs judges that they relentlessly promote false solutions to address the problem. Promoting recycling is their way of holding consumers accountable, noting that barely 9% of all plastics produced since the 1950s have been recycled.
Companies continue to profit from the abundant production of single-use plastics while communities around the world are forced to bear the burden, said Break Free from Plastics, describing this waste management situation as unacceptable.
The cost of renting a dumpster in North Carolina
Pollution is important in South and North Carolina. Some residents and local businesses use dumpster rental services to alleviate ths situation, to bring all their waste and old junk to the nearest landfill or recycling facility.
The cost of renting a dumpster in North Carolina can vary depending on several factors, including the dumpster size, the duration of the rental, the type of waste being disposed of, and the location within the state. Generally, the cost for a standard 10-yard dumpster, suitable for small clean-up projects or yard work, ranges from $250 to $400 for a week-long rental. For larger containers like 20 or 30-yard dumpsters, often used for home renovations or construction projects, prices can range from $350 to $600 or more for a week's rental.
North Carolina's diverse geography and population density can also influence prices. Dumpster rental costs may vary between cities like Charlotte, Raleigh, or Asheville compared to smaller towns or rural areas. Additionally, the type of waste being disposed of can impact pricing, with hazardous or specialized waste materials typically incurring higher fees.
It's essential to reach out to local dumpster rental companies for accurate pricing, such as Dumpster Rental Concord Team, as rates can change over time and may be subject to seasonal variations. Inquire about any additional fees, such as delivery charges or overage costs, to ensure you have a comprehensive understanding of the total expenses. Comparing quotes from different providers can help you find the best deal for your specific project in North Carolina.